The Launch Of G Square Epitome Integrated City
G Square Epitome – Where Dreams Meet Reality
G Square Epitome integrated city is a project that makes dreams meet reality. It is our largest, most spectacular and unique project that is beyond your expectations. Yes, we have planned the entire project across 1242 acres of land designed to meet all the desires anyone can ever wish for! A natural lake by the side, experience scenic sunrise, tranquil surroundings, and a balanced combination of peace versus technology that suffices the need to lead a luxurious and healthy lifestyle.
The township provides access to 140+ amenities, 5.6 acres of clubhouse facility and 24 theme parks, each one of its kind. Excellent connectivity, amazing infrastructure, 100% security and accessibility to all major needs. There are several benefits of investing in this location, so let's discuss the top reasons why you should own a plot at G Square Epitome Integrated City:
1. Location And Connectivity
The project is located on the busiest Vijayawada- Hyderabad highway, experiencing rapid growth in the upcoming years. The connectivity of the township with the rest of the city is intact through roadways, railway stations and metro station, ensuring great connectivity as demonstrated below: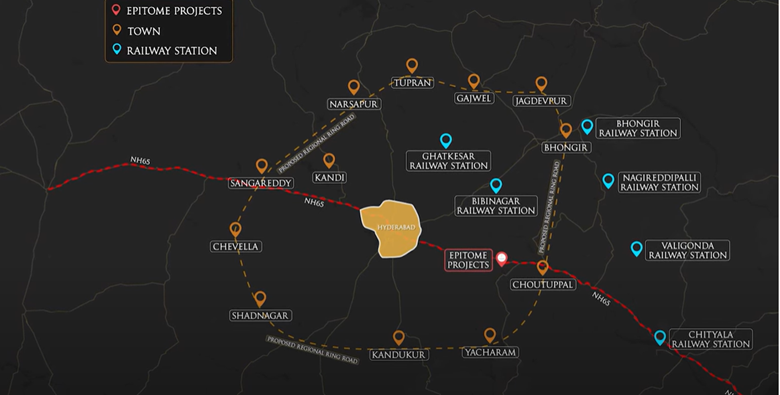 2. Infrastructure And Accessibility
All you can expect at G Square Epitome is superior infrastructure and easy accessibility to all necessities, including prominent schools, colleges, grocery stores, and entertainment centers like malls, hospitals, and IT parks.
PS: Ramoji film city is just 15 minutes from the G Square Epitome.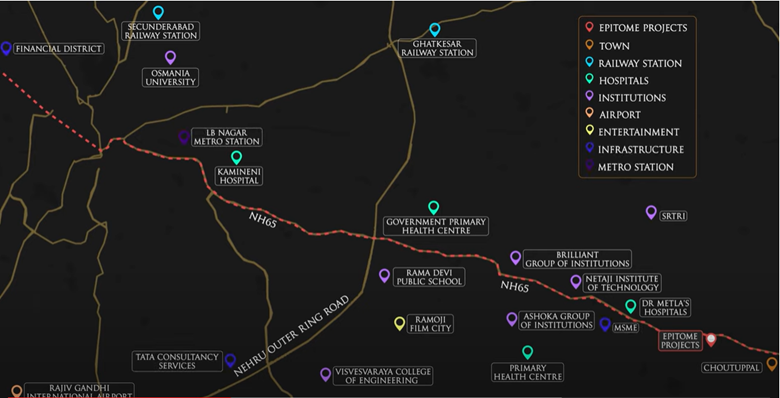 3. In-House Amenities And Benefits
You will have access to 140+ amenities, including 24 exclusive parks, which include a gathering park, a kid's play area, a toddler park, an elders park, a sports park, an ecological pond, a mini golf park, the Garden of Epitome, a pet park, and the arrival garden.
The indoor and outdoor sports activity zones include a cricket court, basketball court, billiards room, indoor activity room, tennis court, squash court, and much more, followed by a clubhouse spread across 5.65 acres of land. Other mind-blogging amenities here are 100-acre Golf Course, 40 Acre Luxury Resort & Wellness center and much more.
4. Development Plans In The Vijayawada- Hyderabad Corridor
There are several development plans in progress in and around the township that are expected to raise employment opportunities for 35,000 + people. Keeping this in mind, investing in the G Square epitome is the best choice anyone can make. Some of the development projects around are –
A New Industrial Park for MSMEs in Dandu Malkapur, Choutuppal.
5 New IT Parks in East Hyderabad creating 30,000+ Job Opportunities.
Expansion of HYD-VGA NH 65 all the way to Malkapur with an estimated expense of Rs. 545 Crores project.
Mangalpally's First Logistic Park is spread across 22 acres of land.
The railway line connects Bhuvanagiri, Choutuppal, and Ibrahimpatnam.
The state government will expedite the development of the HYD Eastern IT Corridor.
5. Great ROI Potential
Considering the growth plans in and around the projects, the appreciation value of the land is evident to increase over time. At today's date, the project is available at a reasonable rate, i.e. 368 acres of plots in phase 1 are now available for sale starting at just Rs. 48 lakhs. Unbelievable, isn't it? All this place guarantees today is the maximum possible appreciation in Hyderabad. So invest today in the next Gachibowli of Hyderabad, the G Square Epitome located on the Vijayawada- Hyderabad Highway.
Invest Today To Make A Fortune Tomorrow
It is a once-in-a-lifetime opportunity to invest in great plots surrounded by pristine greenery in a growth-oriented region. It is Hyderabad's fastest developing eastern corridor, providing guaranteed improvements in quality of life and unparalleled convenience over anything else.
We also offer our investors a variety of benefits and free services, such as two years of free maintenance, 24-hour camera surveillance, free patta after registration, clear parent documents with title, and much more. Visit our website for more information, including exciting investment opportunities in South India.