Why Was Kovalam Beach Awarded Blue Flag Certification?
A Blue Flag is a globally recognised certification. It is an award given to not just beaches but marinas and boats as well. The key objective of the Blue Flag is to encourage sustainability in the tourism industry. A Blue Flag essentially serves as an eco-label.
The certificate is presented by the Foundation for Environment Education in Denmark (FEE,) typically to eco-friendly places. Getting this iconic Blue Flag isn't as easy as one might think, though. Several strict criteria must be followed.
These include environmental, educational, safety and accessibility standards that should be met and then maintained. These measures should ensure sustainable practices, environmental protection and such.
Today, there are over 4,500 beaches around the globe that have been given this prestigious title!
India has a number of blue-flagged beaches. This year more Indian beaches joined the list and one of them is Kovalam beach, right here in Tamil Nadu! But why was Kovalam given this award?
How does it fit into the said criteria?
Why was Kovalam beach awarded Blue Flag certification?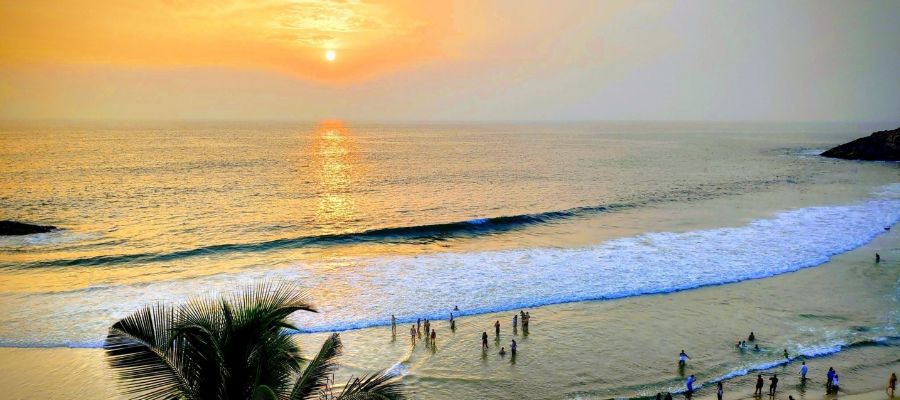 Kovalam is a scenic beach, usually known to many for its waves that are perfect for surfing. But what many might not know is that Kovalam is a "zero liquid waste managed beach." An off-grid solar power plant, greywater treatment plant and solid waste management unit – these are some of the reasons why it's no surprise Kovalam has become an environmentally friendly beach now!
For some time now, Kovalam has been working towards getting this eco-tag. The beach had been trying to reach standards, which include environmental education as well. Efforts are now being made to teach people, especially those in the nearby areas, the importance of beaches and what they can do to help take care of them and keep them clean and safe.
As the Kovalam Beach met the water quality and safety criteria, the government had stated earlier that it would be further developing Kovalam, keeping in mind the Blue Flag guidelines. Just getting the certification isn't enough, though. Nominated representatives from FEE will monitor and conduct regular checks for compliance.
The Tamil Nadu government has also announced the intent to attain the Blue Flag label for more beaches, in the state, in the next five years. They are expecting support from local bodies to help them achieve this. In a sense, this is India's commitment to the environment. It's vital to protect. India's coastal regions and marine ecosystems and conserve them to the best of our abilities.
Kovalam and the other blue-flagged beaches in India can be seen as a good start. A Blue Flag's mission is to monitor conditions and reduce the impact that human activity can have on our beaches while still keeping them accessible in a safe way. For instance, the Kovalam beach is accessible for the differently-abled and even has exclusive toilets for them. The beach is covered in green and has many facilities, including a safe swimming area, hammocks, outdoor fitness equipment, children's play area and purified drinking water.
There's no doubting how worthy Kovalam is of this renowned certification. We can only expect more blue-flagged beaches in the years to come!
Kovalam beach – Chennai is definitely full of surprises. For more such exciting information, check out our website – G Square Housing