10 Reasons To Invest In G Square Epitome, Hyderabad
Who isn't excited about the new investment opportunities that are popping up in the eastern part of Hyderabad, especially the Hyderabad – Vijayawada highway? There are many fantastic investment opportunities in this corridor at a competitive price. One amongst many such investment opportunities is the G Square Epitome – the integrated city located on the Hyderabad – Vijayawada Highway.
This gated community by G Square stands out from all the other residential plots available in that stretch. Below mentioned are some of the reasons to invest in G Square epitome – Hyderabad.
G Square Epitome – Hyderabad
G Square Housing is South India's Largest Plot Promoter with 10+ years of experience in the real estate market. They have successfully delivered 1000+ acres of land to 6000+ happy customers through 60+ Premium Projects. They have various projects widespread across south India in places like Chennai, Hyderabad, Mysuru, Coimbatore, Trichy, Hosur & Ballari.
The team of experts at G Square is well-versed in delivering the perfect land for the interpretation the investors have in mind for their home endeavors. No matter what you are looking for, a residential, industrial, or commercial plots, they have it all!
G Square Housing is launching a one-of-a-kind gated community with picturesque scenic surroundings that include hills, lakes, and lush greenery parks all around, named G Square Epitome. The township is well-planned to provide a luxurious and healthy lifestyle amidst the superior infrastructure, world-class amenities, and top-notch facilities that upgrade into a luxurious lifestyle for its residents. Apart from the luxurious perks and amenities, this location also has excellent potential to provide maximum land appreciation value in upcoming years.
This township is located in proximity to the Telangana state industrial infrastructure corporation. Apart from that, a TSIIC – TIF MSME green industrial park is in progress to facilitate hundreds of industrial and commercial activities employing more than 35,000 people. This development plan demonstrates the growth potential and appreciation value of land in the Hyderabad – Vijayawada highway.
Top reasons why you should own a plot at G Square Epitome Integrated City: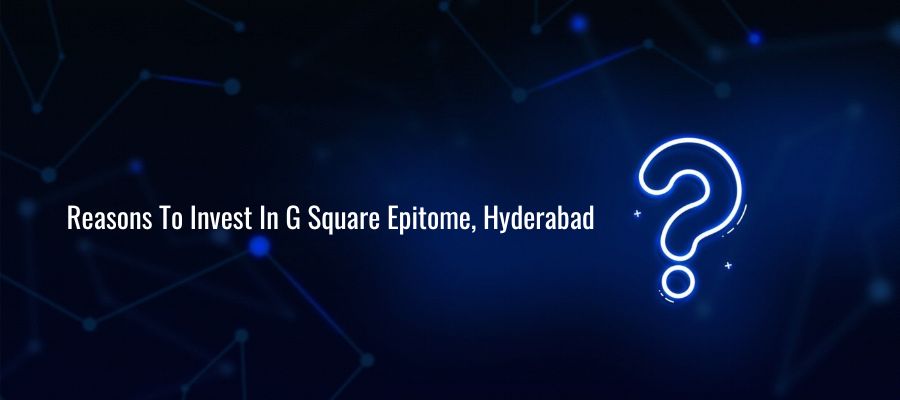 1. South India's Largest Integrated City
G Square epitome is located on the Hyderabad-Vijayawada highway, the city's fastest developing eastern corridor. It is Hyderabad's largest HMDA and RERA-approved project. These residential plots come with complete land authenticity and construction freedom. This location is ideal for those seeking a life free of congestion and chaos.
2. Location
This project includes a 279-acre Natural Lake on its premises and is situated on the highway in the midst of lush landscaping. This gated community offers a variety of residential plots in a sizable 1242-acre community, with 368 acres of luxury villa plots in Phase 1.
3. Luxurious Amenities
This township is Hyderabad's first-of-its-kind largest project, boasting 140+ world-class amenities. It also has 24 exclusive parks, including a butterfly garden, sports park, maze garden, garden of sounds, and garden of lights, and Hyderabad's largest clubhouse, which is 5.65 acres. A 100-acre golf course, IT parks and a 40-acre Luxury Resort & Wellness center are also located within the township.
4. Exclusive Sports And Physical Activity Academy
The township provides a campus facilitating sports and a cricket academy, and you can access more than 40 sports activities. Some outdoor activities include a basketball court, a cricket field, and a tennis court. Indoor activities include a badminton court, a squash court, a billiards room, and many other options. Name one, and you have it in here at G Square Epitome.
5. Freedom To Build Your Dream House
It is the biggest reason to choose these residential plots as they allow the freedom to design and build. You will have complete ownership of the land and lead a luxurious independent lifestyle amidst all the amenities, lush green environment and social infrastructure.
6. Social Infrastructure & Excellent Connectivity
Access to efficient transportation facilities and the proposed project of a metro station in the pipeline makes this location a hotspot for real estate investments. It is just 15 mins from the outer ring road and the Ramoji film city. This place is also surrounded by excellent schools, colleges and hospitals within an accessibility radar of just 10-15 mins.
7. Pricing Benefits
Given the facilities and amenities provided within the gated community, one might expect the plot prices to be exorbitant. But that's not true! The residential plots come at a very reasonable price of Rs. 48.06 lakhs onwards, for varying sizes between 267 – 533 Sq yards.
8. Community Perks And Facility
G Square provides exclusive facilities for its investors, and those added-on facilities for free are as follows :
Blacktop roads
Underground electricity
Water supply
Premium solar street lights
Sewage management system
24*7 camera surveillance for security
Building management system
Health care center
rainwater harvesting and groundwater recharge facilities
Provision for river Krishna drinking water
Post office, police outpost and fire station facility and much more.
9. Potential Return On Investment
Considering the number of industrial and IT park projects in this region and the employment opportunities for 35,000+ additional people, this area will undoubtedly appreciate and generate guaranteed returns in the future. The reasonable pricing for the plots here is a steal for investors expecting a significant future return.
10. Services And Benefits
Well, G Square provides special privileges to its investors that one can benefit from. The benefits include the following –
2 Years of Free Maintenance
Post-purchase guidance for villa
100% clear documentation and transactions
Hassle-free plot investment experience and home building
Take A Leap Of Fortune In Your Financial Portfolio
Overall, this is a once-in-a-lifetime opportunity for all Hyderabad investors to seize and profit extravagantly. Investing in G Square Epitome Integrated City will significantly increase your financial portfolio, your standard of living, and your luxurious and healthy lifestyle. If you intend to invest in Hyderabad's real estate market, there is no other location that can match the guaranteed returns this location provides in terms of quality of life and growth potential.